Your Digital Sample Kit for Grades 6-8
Discovery Education Science Techbook™
We know your time is valuable so all of the tools you need for your evaluation are in one place, at your fingertips. Explore and experience all that Discovery Education Science Techbook can offer you and your students.
What is Discovery Education Science Techbook?
A comprehensive, all-in-one digital replacement for traditional textbooks that covers K-12 Science. It is custom built for Texas and aligned to the TEKS and STAAR. Students are excited to learn science and motivated to do well. Teachers are supported with tools and resources to inform their practices and differentiate instruction.

Watch these demonstration videos before you get started to see key features and interactive digital capabilities in Science Techbook.

The Discovery Education Science Techbook Difference
Brings the world of science into the classroom with exclusive Discovery content
Continually updated at no additional cost
Features English-to-Spanish, text-to-speech, and different reading levels
Includes real-time customized STAAR assessments
Works with all devices, anywhere, anytime 24/7
Includes customized professional development and reliable customer support
What Comes with Discovery Education Science Techbook?
Professional Development — Provides training to maximize the multimodal resources available to enhance classroom instruction, engagement and student performance. The Discovery Education Professional Development team will collaborate with your school and district to design differentiated training to meet each schools' specific needs while taking into account available classroom resources and educators' technology integration skills.
Low-cost to Purchase, No-cost to Update — Offers a competitive pricing model that makes Discovery Education Science Techbook both an attractive and accessible option, even to districts with limited budgets. In addition to a low up-front cost to purchase the program, Science Techbook includes free ongoing updates that incorporate current events into each course on a real-time basis, and provide timely enhancements to curriculum based on new TEKS standards.
Project Management — Provides full time project management to lead each school/district through the implementation process, from pre-launch preparation and rollout activities to post-launch analysis, ongoing partnership follow-up and educator celebrations.
Printed Teacher's Guides — Provides a "quick start" guide to the Discovery Education Science Techbook program organization, instructional resources, lesson plans, and assessments to facilitate effective instruction. [Up to 25 per school]
Printed Reviewer's Guides — Provides a comprehensive overview of the Discovery Education Science Techbook program inclusive of the digital content, technological and pedagogical supports available to enhance instruction.
Teacher & Student Logins — Provides 24/7 access to the Discovery Education Science Techbook from anywhere.
Companion DVDs — Provides direct, non-web access to all interactive explorations including virtual labs, science simulations, interactive glossary, etc. to allow for offline access. [Up to 25 per school, only available for K-8]
Customer Support — Provides just-in-time, live customer support to answer questions, troubleshoot technical issues and share best practices to ensure all educators and students are able to maximize their use of Discovery Education Science Techbook.
Get Started with Techbook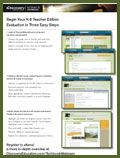 Begin your grades 6-8 Teacher Edition Evaluation in 3 Easy Steps
here.
Don't have a login?
Contact Us
.
Download and Print Resources to Help Your Evaluation
K-8 Sample Rubric
A Science Techbook for Texas rubric to help you evaluate and select a textbook.
Professional Development Overview
An overview of the Professional Development that is included with your
K-8 or High School Science Techbook program to support a successful implementation.
Grade 6 Correlation Documents
Grade 7 Correlation Documents
Grade 8 Correlation Documents
Have Questions?
Contact: Anne Dewey
Phone: 312-841-9866
Anne_Dewey@discovery.com