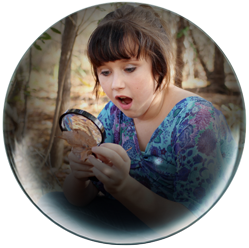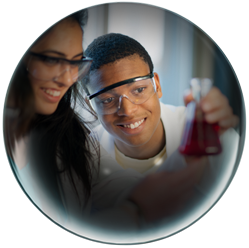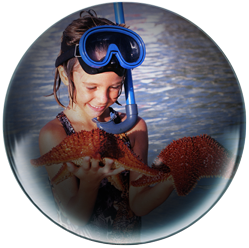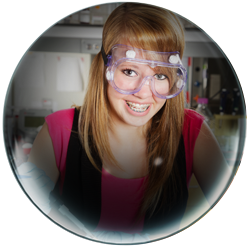 But first, they must embrace science, technology, engineering and math (STEM) to build the skills that will serve as their tool set for the future. For that to happen, we must work together to ignite their curiosity and get them excited about STEM in their everyday lives.

So we ask you to join us in connecting the dots between learning and life so that we can provide pathways for kids to achieve today and lead tomorrow. Whether inspiring interest in STEM subjects and careers with Discovery Education's free STEM resources, becoming a STEM mentor, or co-viewing STEM programming on Discovery Channel and Science Channel, you can join our mission to propel today's students to success in college, careers, and citizenship.
Inspiring Students through STEM Mentorship
Discovery has joined the movement to connect the dots between the classroom and the real world by teaming up with US2020, an organization with the mission of matching 1 million STEM mentors with students at youth-serving nonprofits by the year 2020. As part of our mentorship program, we're helping students to understand the importance of science and technology in pursuing a career in broadcast television. We'll be connecting students with Discovery STEM professionals in broadcast engineering, information technology, and broadcast operations exposing them to the many STEM related career opportunities that exist in the rapidly evolving world of media.

Click here to learn more about US2020 and how you can get involved.
Igniting the Spark: Discovery Education STEM Camp
While after-school learning and summer programs provide rich opportunities to keep students inspired beyond the classroom, we know that unequal access to these programs can contribute to disparities in student achievement.

As part of our commitment to STEM education for all students, we are excited to announce the launch of the Discovery Education STEM Camp - a dynamic series of standards-aligned curricula available at no cost to schools, districts, non-profit organizations, and parents for use as part of summer camps, after-school STEM programs or wherever support is needed.

STEM Camp combines hands-on labs, engineering challenges, digital investigations, and more - all designed to immerse kids in the grand challenges of science set forth by the National Academy of Engineering.



David C. Taylor
Middle School Robotics and STEM Teacher
Charlotte-Mecklenburg Schools in Charlotte, NC
STEM Camp Opens World of Math and Science for Osceola County Students
Spending a week learning about the properties, functions and roles of water doesn't sound like the typical summer camp. Read more.
STEM Camp Middle School Students in Grand Prairie
GPISD and Discovery Education are teaming up for the second year to offer STEM Camp to middle school students. For one week, the students learn hands-on about conservation, energy, and water issues by building light bulbs, wind turbines, and boats that are test in pools. More on this.
Atlantic City Electric Introduces STEM Club Activities for Kids
Atlantic City Electric is teaming with a local youth group to introduce STEM Club activities to kids in South Jersey. More on this.
How Discovery Education Helps Students Achieve Through Digital Environments
On June 16, Discovery Education and PGCPS kicked-off a new phase of collaboration with the largest professional development event in the school system's history. Read more.
Pepco STEM Club
Pepco and Discovery Education have joined forces with the Boys & Girls Club of Greater Washington to support youth achievement in science, technology, engineering, and math with an exclusive initiative available at select Boys & Girls Club sites.
Learn more about Discovery's Connect the Dots initiative

Discovery En Espanol launches their 3rd Annual "Descubre Tu Talento", highlighting and promoting job skills for US Hispanics. This year, the focus is on STEM careers with tips, resources and video testimonials.
SCI2 is our new online 24/7 TV network featuring the most awesome science videos from the web and live streaming cameras from NASA, city cams and more!


Additional STEM resources to engage and excite.

Lumosity brings fun brain games to schools with LEAP - free membership for teachers who want to improve their student'sability to think and learn.