Home
>
Japan Tsunami with Dr. Michio Kaku
Join Us Thursday, May 19th, at 1:00 PM ET
Discovery Education invites you to an exclusive webinar with distinguished physicist, Dr. Michio Kaku, as he discusses the nuclear crisis in Japan following March's devastating earthquake and tsunami.

Dr. Michio Kaku is a theoretical physicist, best-selling author, and co-founder of string field theory. A leading and popular figure in science education, Dr. Kaku also serves as Host of Sci Fi Science on the Science Channel.
Presentation (10 minutes) Michio will provide context and perspective
Q&A from Students (20 minutes) Students will have the chance to submit questions to be answered live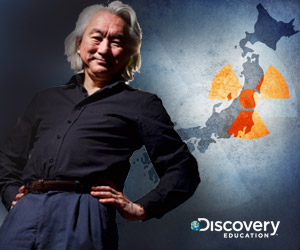 No special equipment is needed to view this event online. All you need is an internet connected computer (and a way to share with students - projector and speakers). Students will have the chance to submit questions to ask live.

Frequently Asked Questions
Q: Do I need to register all my students or just my classroom? A: You only need one ticket for a location or classroom. All your students are covered by the one ticket.

Q: My classroom can't make this time, will there be an archive? A: Yes, classrooms and teachers registered for the event will be notified when the archive is available soon after the live event.